Iconic Images of Veterans Supporting the Protests
There have already been numerous iconic photos of veterans supporting the protests:
(For the stories behind the photographs above, see this, this and this.)
Indeed, veterans' support for the protests is growing nationwide.
Today's March of the Veterans
Robert Johnson of Business Insider covered the veterans march today in New York's Zuccotti Park supporting the protesters.
Johnson took some great photos (below), and reports:
This was a true march in protest. After all, these men and women are soldiers.

As they made their way to Zuccotti Park, the feeling was tense. People who watched from their offices did not smile or laugh, they stared and whispered quietly to each other.

And then the veterans took the human microphone. Like their steps, their voices rang in perfect time. The occupiers stood in silence, only opening their mouths to repeat what the soldiers said.

When one Navy veteran addressed Zuccotti Park he put it very simply: "If you continue to assemble in peace and solidarity, justice will come to pass. We are the 99%."
And here's a picture of today's march from the Guardian: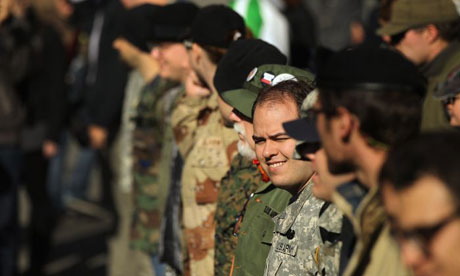 Police Stand Up For Liberty As Well
In related news, here is a must-read story about how at least some police are also standing up for liberty and the rule of law … to the great chagrin of the big banks.