Top Military Advisor Predicted the Rise of the Islamic State 6 Years Ago
The Rand Corporation has been a top advisor to the U.S. military for 66 years.
We noted in 2008 that a Rand study found:
Terrorists should be perceived and described as criminals, not holy warriors, and our analysis suggests that there is no battlefield solution to terrorism.
Let's look at the details of the study.  Rand points out:
The United States cannot conduct an effective counterterrorism campaign against al Qa'ida or other terrorist groups without understanding how such groups end.

***

This was the first systematic look at how terrorist groups end. The authors compiled and analyzed a data set of all terrorist groups between 1968 and 2006 ….

***

As depicted in the figure, the authors found that most ended for one of two reasons: They were penetrated and eliminated by local police and intelligence agencies (40 percent), or they reached a peaceful political accommodation with their government (43 percent).

***

In 10 percent of cases, terrorist groups ended because they achieved victory. Military force led to the end of terrorist groups in 7 percent of cases.

***
The chart is a little difficult to read.  Here's a new, easily-readable version based on Rand's data, created by the nonpartisan Institute for Economics and Peace:
Rand's 2008 summary continues:
Military force has not undermined al Qa'ida. As of 2008, al Qa'ida has remained a strong and competent organization. Its goal is intact: to establish a pan-Islamic caliphate in the Middle East by uniting Muslims to fight infidels and overthrow West-friendly regimes. It continues to employ terrorism and has been involved in more terrorist attacks around the world in the years since September 11, 2001, than in prior years …

Al Qa'ida's resilience should trigger a fundamental rethinking of U.S. strategy. Its goal of a pan-Islamic caliphate leaves little room for a negotiated political settlement with governments in the Middle East. A more effective U.S. approach would involve a two-front strategy:

Make policing and intelligence the backbone of U.S. efforts. Al Qa'ida consists of a network of individuals who need to be tracked and arrested. This requires careful involvement of the Central Intelligence Agency and Federal Bureau of Investigation, as well as their cooperation with foreign police and intelligence agencies.
Minimize the use of U.S. military force. In most operations against al Qa'ida, local military forces frequently have more legitimacy to operate and a better understanding of the operating environment than U.S. forces have. This means a light U.S. military footprint or none at all.

Key to this strategy is replacing the war-on-terrorism orientation with the kind of counterterrorism approach that is employed by most governments facing significant terrorist threats today. Calling the efforts a war on terrorism raises public expectations — both in the United States and elsewhere — that there is a battlefield solution. It also tends to legitimize the terrorists' view that they are conducting a jihad (holy war) against the United States and elevates them to the status of holy warriors. Terrorists should be perceived as criminals, not holy warriors.
How prescient the Rand report was!  In fact, the U.S. war on terror has increased terrorism.
And see this chart from the Institute for Economics and Peace: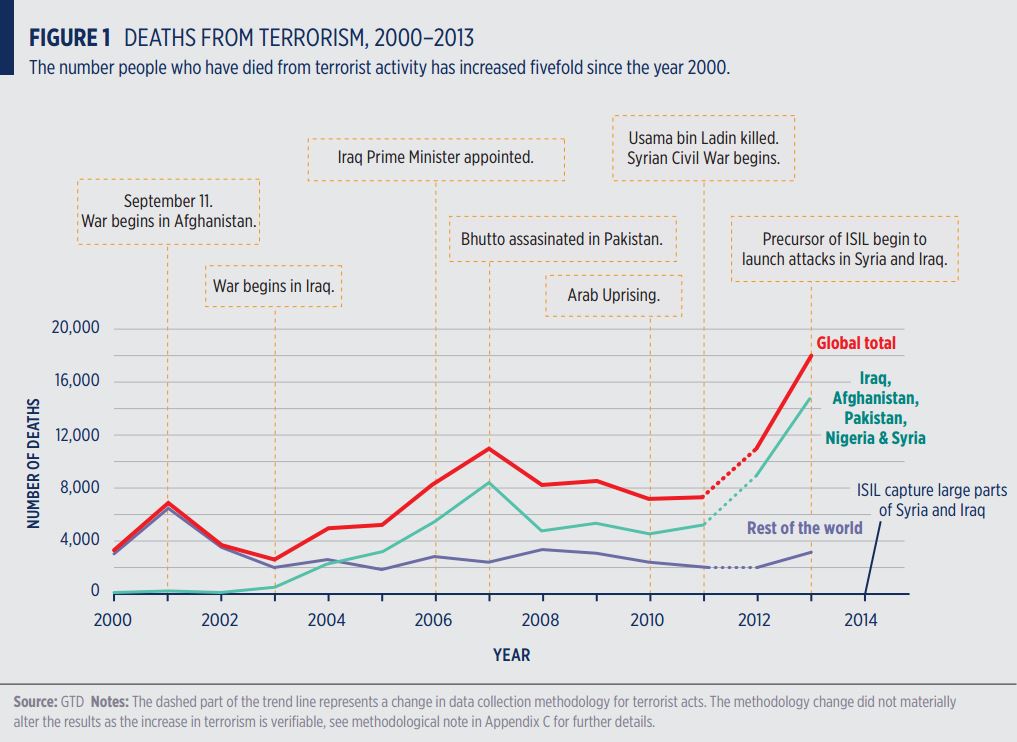 Notice how terrorism had been declining since 9/11 … but then started increasing again when we invaded Iraq.
And our wars in Iraq and Syria created the Islamic State (and see this and this) … and gave them their caliphate.
Our entire military approach has made us less secure (more here and here) and increased terrorism.
Postscript:  Sadly, security and stopping terrorism may not be the main goals of the powers-that-be.