Schools are considered the best and safest place for students to explore things that they are interested in, get the freedom to choose their own classes, and dive into extracurricular activities.
By choosing the right school, you will also prepare your child for college or work.
For most parents, however, finding the best school is a very tedious task. In fact, there have been cases where parents moved to an entirely different city to ensure that their kids get into better schools.
Sadly, only a few schools have managed to stand apart from the thousands, thanks to the impeccable track records, academic success, and ensuring the future is successful for the students.
In this article, we will talk about some of the best schools in Washington.
What Are Some Of The Best Schools In Washington?
Some of the best schools in Washington include:
1. Tesla STEM High School
Located in Redmond, the Tesla STEM High School is definitely one of the top public schools in Washington.
This school uses a lottery-style enrolment system and incorporates different types of technology on all grade levels.
The school has joined hands with various companies to provide internships to its students in fields related to STEM.
Some of the school's official partners include the University of Texas, Terex Corporation, Microsoft, the University of Washington, etc.
Students at the Tesla STEM High School are encouraged to conduct original research, which they need to present in their classrooms. Additionally, they also have the choice to participate in interscholastic competitions.
2. International School
The Washington International School is a co-educational school that offers its students a rich language program and a challenging international curriculum. As of now, the school has more than 900 students right from pre-school to Grade 12.
Pre-school students here need to follow the IB (International Baccalaureate) PYP (Primary Years Program). Students from Grade 6 to 10 follow a multidisciplinary study course.
As for the final two years, the students follow the courses under the IB Diploma Program.
The school is known to equip its students with everything they need to pursue rigorous academic challenges in subjects like the arts, social sciences, literature, languages, science, and math.
Additionally, there are also various other activities in this school like community service, club participation, sports, etc.
3. Raisbeck Aviation High School
The Raisbeck Aviation High School is another great school in Washington that schools roughly 410 students from Grades 9 to 12.
In fact, this school has landed a spot in the top 5% of all Washington-based schools for test scores. For instance, the school landed in the top 1% proficiency for reading and the top 5% for math proficiency.
The student: teacher ratio at Raisbeck Aviation High School is higher than the standard 17:1 – 23:1.
The school also has a minority enrollment of 48%; out of these, the majority of the students are Asian, which is higher than the state's average of 46%.
4. Newport Senior High School
Located in Bellevue, the Newport Senior High School is a popular public high school that serves students between Grades 9 and 12. The school has a total number of 1,770 students.
The Newport Senior High School has been ranked as one of the top 100 Best High Schools in Newsweek Magazine.
The school has also won the Blue-Ribbon School of Excellence by the US Department of Education in 2003.
Apart from the excellent studying environment, the Newport Senior High School also hosts a wide range of clubs for its students, like math clubs, culture/language clubs, sports clubs, dance clubs, etc.
Additionally, the classes have been designed in such a way that each student is capable of performing their best in various types of fields.
5. Bellevue High School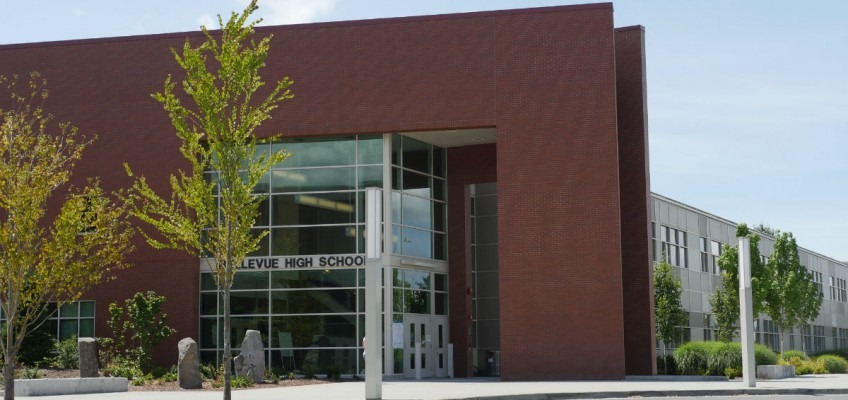 Bellevue High School is a top-notch school in Washington that is known for offering the best academics and getting your students ready for college. The teachers here are very supportive and nice and are known to interact with their students well.
The students at this school are also known to be sociable and respectful of one another. The school is particularly known for its STEM and computer science programs.
Additionally, the students also go through rigorous courses, which ensures that the students here are always getting the best education.
The school ensures that all its students are involved in all the activities. You will find a wide range of sports and clubs that you can choose based on your preferences and liking.
6. Bainbridge High School
Landing the 6th rank in the latest school ranking in Washington, the Bainbridge High School is a comprehensive high school that serves students between Grades 9 and 12.
Students here are offered a wide range of courses that are not available in other high schools. Additionally, the educational institute is also known to offer advanced placements.
Overall, Bainbridge High School currently has more than 1,300 students. Additionally, the school is also known for offering a wide range of sports options to its students like football, basketball, tennis, swimming, volleyball, etc.
Some of the famous alumni from Bainbridge High School include Dove Cameron (actress), Andrew Wood (vocalist of Mother Love Bone), Marcel Vigneron (chef), Ben Shepherd (bassist for Soundgarden), etc.
7. Mercer Island High School
Another top-ranking school that you can consider for your kids is Mercer Island High School. This school has exceeded the expectations of parents and students alike all over America.
The Mercer Island High School is known to be very career-focused and is considered the best choice for people who want to take their careers to the next level.
Mercer Island High School serves roughly 1,520 students from Grades 9 to 12. The students here are constantly challenged to rise to the occasion. Additionally, these students are known to achieve high marks in all subjects.
The teachers in this school are very professional and will help their students with any type of problem.
Also, the school is known for providing many extra-curricular activities like sports, debates, arts, music, dancing, etc. All the students here feel welcomed and engaged in the classrooms.
8. Interlake Senior High School
Ranking among the top 10 schools in Washington, there is no doubt that Interlake Senior High School is an amazing school for students in the state. It is a great public school and has more than 1,500 students currently.
The school is known to focus its attention on students to excel on all fronts. Academically, the students are provided with everything they need to secure the best positions and the top colleges.
The teachers and the faculty members here are also very friendly and will help you deal with whatever problem you are facing.
Additionally, you should also not undermine the attention given to extra-curricular activities. The sports teams at Interlake Senior High School are known to be some of the best in the state.
You will also find a wide range of other activities here like dancing, music, arts, etc.
9. Orcas Island High School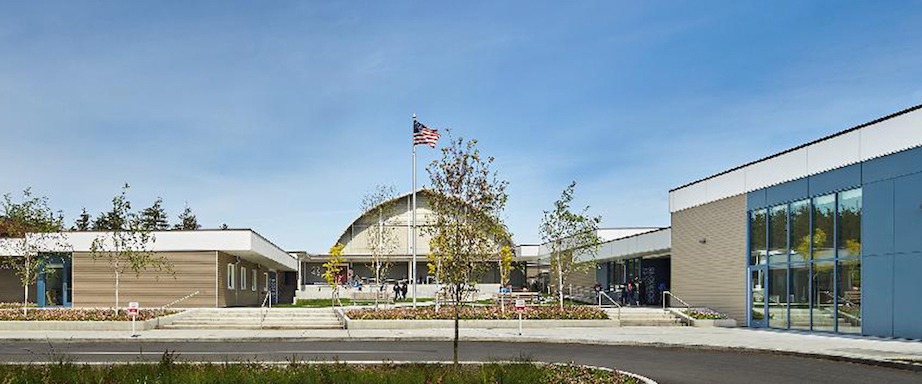 Last but definitely not least, Orcas Island High School is another top-ranking school in Washington. Here, the students have the opportunity to take advanced placement exams and coursework.
This school is highly rated and has roughly 130 students between Grades 9 and 12.
This means that the student: teacher ratio is 12:1. Based on research, the students here are highly proficient in mathematics.
Apart from studies, the school is also known to focus on its sports. It is known that Orcas Island High School's teams are known to be the top teams in the States, including for sports like football, basketball, tennis, etc.
However, the school also understands the importance of hobbies and clubs and includes a music club, a dance club, a debate team, etc.
Final Thoughts
If you are looking for the best schools in Washington, you can consider any one of the above-mentioned educational institutions.
These schools have been rated as some of the best in the city and will only provide the best environment for your kids to learn and thrive.