Discord is a popular instant messaging (IM) software that is used by gamers, Redditors, and Patreon producers to talk and exchange material.
It has gained popularity in recent years as a result of its prominence in the game streaming industry.
The application appears on various rankings of the top ten messaging applications in the globe. That is how fantastic it is.
While Discord is fantastic for keeping up with some friends in like-minded group servers, not every text you send is appropriate for everyone.
Some of these messages include game (or other) spoilers that people may not wish to know or read.
But disregarding spoilers was not so simple. As you browse through miles and miles of content, your eyes will undoubtedly pick up on some hints and spoil the excitement for you.
Fortunately, Discord came up with the ideal answer. If you are going to provide some spoilers or secrets, you may now designate them as spoilers.
When you designate a text as a spoiler, it will be hidden under a solid block when you send it. To view the text you have shared, each person must click on this block.
On this tutorial, we will teach you how to flag your texts as spoilers in the Discord application.
Add Spoiler Tags To Texts
So now we get to the meat of the matter: how do you make spoilers tags on Discord? There are three ways to go about it.
You may go over all of them and select the one that best meets your needs. All of the techniques are straightforward to implement.
The methods below are applicable to any device, including the mobile applications for Android, iPhone, and iPad.
To include a spoiler label in a text message, write "/spoiler" at the beginning of the text. In a Discord channel, typing "/spoiler this is a spoiler message" will conceal the text until the receivers elect to read it.

You may also use two vertical lines at the beginning and conclusion of your text. "||this is a spoiler message||" will, for instance, be shown as a spoiler.

There is one other method you may use to add spoiler tags to your texts.
Enter the text you wish to label as a spoiler but do not deliver it.
Select the text you wish to designate as a spoiler by highlighting it. It is important to note that you do not need to select your full text. You simply need to choose the section that includes the spoiler.
A menu will show on the screen once you select the appropriate text. To access additional options on iOS, touch the right arrow (">").
Select "Mark as spoiler."
Add Spoiler Tags to Pictures or Attachments
A Discord spoiler may be useful in a variety of situations. Discord, as you may be aware, is highly popular, and its cross-platform adaptability makes it a favourite among players.
With a single account, you may connect to your pals across various devices.
Images, movies, and other assets, including texts, can also be flagged as spoilers. The procedure for labeling photos and videos as spoilers differs somewhat from that for text.
So, how do you include spoiler tags into other files? Here's a quick summary. The steps outlined above will not work for this type of content, but you can label files and photographs as spoilers prior to uploading them.
Sadly, spoiler tags may only be added to photos or files sent via the Discord site or application for Windows or Mac—they are not allowed on the mobile applications.
Drag & drop your content into the server conversation, or tap on the plus symbol (+) beside the chat bar, in the Discord desktop application or on the website to do so.

A glimpse of your attached document will display before it is transmitted in the conversation.
To conceal the picture or file after it is uploaded, tick the "Mark as Spoiler" button, then hit "Upload."

The picture or file will display on Discord under spoiler marks after it has been delivered. You may ignore the spoiler preview and check the file by tapping "Spoiler." This eliminates the spoiler label and returns the picture or file to its original state.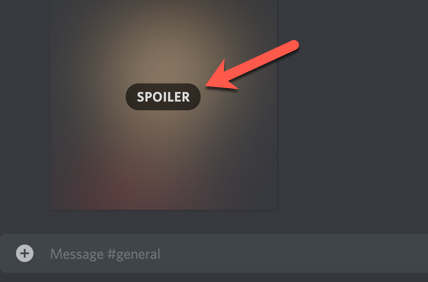 Disable Spoiler Tags
While spoiler tags can be useful, you may not want users to use them on your Discord channel.
You may disable the spoiler tags option in Discord. To do so, launch the Discord application on your PC or browser and navigate to User Settings > Text & Images.
Then you can select one of the following choices: On click, On servers I moderate or Always.
Conclusion
You may now explore your Discord chats without fear of seeing anything you are not prepared for.
Begin using spoiler marks yourself to ensure that no spoilers are revealed in the information you share on Discord.