YouTube has over fifteen years of videos on its platform, with millions of videos containing a wide variety of content and information. Some of which are considered highly valuable.
Although YouTube provides multiple features to save specific videos for viewing at a later time, some individuals may be interested in saving the video off of the platform, so it never gets lost or deleted.
YouTube doesn't provide this feature themselves, so people have created many different methods to download videos in any standard format you might need safely.
There is a plethora of websites and software that provide this service, but not all can be trusted.
The information in this article will dive into the best ways how to download YouTube videos on desktop and mobile devices.
How to Download YouTube Videos
The most reliable and effortless process to download videos from YouTube is to use an online downloader, which might be a website, web app, or downloadable software.
Let's have a look at some of the most reliable options out there.
For starters, 4K Download seems to be a favorite for many users, and it's compatible with known operating systems such as Mac, Windows, and even Linux.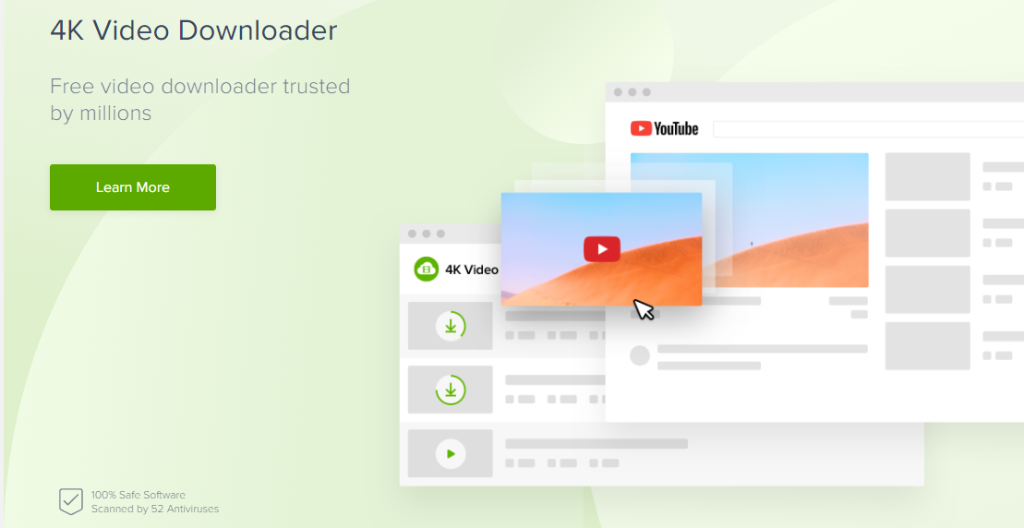 It also includes valuable features such as bulk downloads, playlist downloads, 720p, 1080p, and even higher resolutions.
Furthermore, you have the ability to extract and save subtitles in over fifty different languages.
The 4K Video Downloader does come with a free trial and three different pricing tiers offering many various features.
What Features are Needed in a Video Downloader?
Every individual has their specific needs, but if you think you're going to download YouTube videos on a frequent basis, you'll want the best possible features.
Of course, some of these may require a subscription, depending on the service you're working with. Aside from that, you also want to ensure the website is secure and the service provider is trustworthy.
Below are a few key features you should look for in a video downloader for YouTube.
File Compatibility and Formats – In some cases, you might need to download a YouTube video in a specific file format. The best video downloaders have a variety of alternatives to pick from, such as MP4, MP3, AAC, or FLAC.
Downloading in Bulk – You want to ensure that the service you choose allows you to download videos in bulk. This would be useful for videos that contain multiple lessons or possibly multiple episodes from a tv show. Keep in mind bulk downloading isn't generally a free feature due to its benefits and ease of use.
Video Quality – You should ensure the service offers at least a bearable video quality. Moreover, it's more favorable to be able to choose your desired video quality. The service may only provide low, medium, and high settings, but you want to look for a service provider that lets you choose a specific resolution like 720p or 1080p.
Download and Processing Time – Some YouTube downloaders can take quite a while to process a single video. This can become somewhat frustrating, especially if the video is only a few minutes long. The more reputable video downloading services can handle this task within seconds. Keep in mind that internet connectivity can also play a role in video downloading speeds.
Video Editing Tools – Sometimes you want to select a specific portion out of a montage video, or maybe you're looking to download one of your favorite scenes out of a movie. Video editing is a vital function in a video downloader since you might want only to save part of a video instead of the entire thing. This is also useful for conserving storage space and optimizing download times with smaller files. This isn't generally a free feature, but many different video downloading sites have this capability.
Add Subtitles – Many people like to watch content in other languages, and subtitles are vital here. Luckily, you have the ability to turn subtitles on or off on YouTube, and most video downloaders allow you to do the same.
Web Security – Whether the public trusts them or not, you should always be wary about the security of a website. Many online video downloaders flood you with spam and popup windows as soon as the page loads. Some of these could even contain viruses; you must always research video downloader's and their services before you start clicking away.
Copy and Paste the YouTube Video's URL
The first step to using a video downloading tool is providing a proper URL. From here, pull up YouTube and search for the particular video you're looking to download.
Next, you'll have to copy the video URL or 'share' link and paste it into the box provided by the download tool.
You can usually find this box on the home page of the website or the dashboard if you have video downloading software.
The process is essentially the same whether it's a software or online web application; just make sure anything you download comes from a secure and trusted service provider.
On another note, not all web applications or software work on every operating system.
Some are functional on Android and others on iOS, while the most popular services are generally compatible with devices across the board.
It's just something to consider when using a mobile or desktop device.
Select Your Video Quality and Desired File Format
You'll see a slew of options after pasting the URL of the YouTube video into the download box. Before processing, you'll want to set the video quality in addition to the file type parameters.
Then, select your download destination for the finished file.
Furthermore, if you use a VPN, you may run into some issues with the download, as some users have reported that it renders some video downloaders unusable.
Can You Download Directly From YouTube?
Although YouTube doesn't have a direct download button available on their platform, there is a quick workaround that you can utilize to get a fast download. Search for your desired video on YouTube.
After that, you'll need to make a small edit to the URL on the video. To clarify , after 'www.' but before 'youtube.com,' type in 'ss'.
From here, hit the 'Enter' key, and you'll be routed to a download website where you're able to download the video for free. As usual, always practice due diligence, as some video downloaders are more reliable than others.
Nevertheless, you'll still have the ability to select your desired file type and resolution based on what the download service offers.
The Different Methods to Download YouTube Videos
Finding a reliable way to download YouTube videos was a much more challenging task years ago.
Today it's easier than ever, and many different methods allow you to achieve the results you're looking for, from using desktop computers, mobile phones, add-ons for your browser, and more.
As you continue reading, you'll find relevant information on how to use each method.
Download YouTube Videos with a Mobile Phone
If you're looking to download YouTube videos to a mobile phone, this process is a little more complicated. Depending on your phone's operating system, there are a few reliable options.
One method is to use an application called InsTube; if your smartphone is an Android.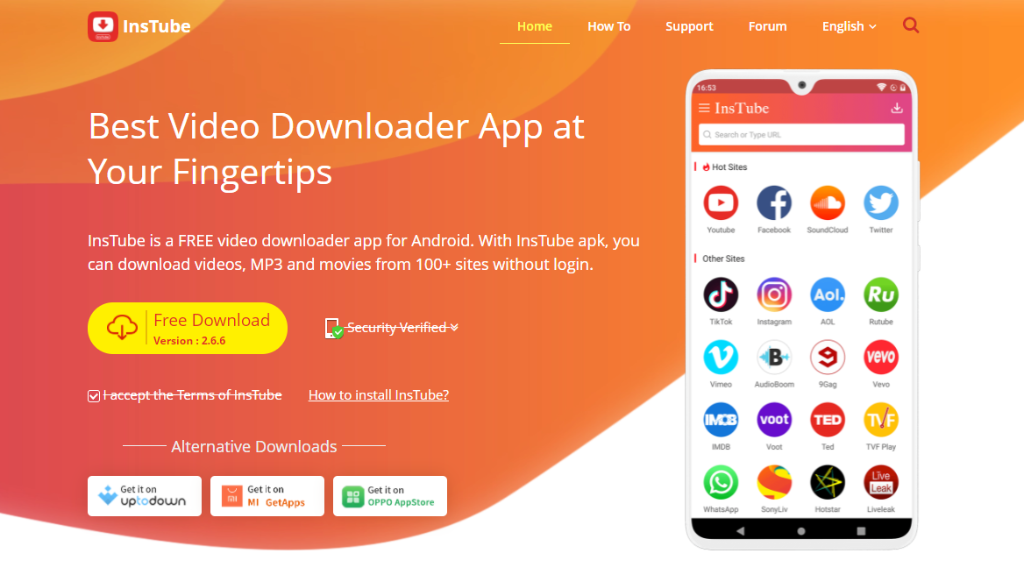 This is a simple app that makes downloading YouTube videos a breeze and takes minimal effort on your part. Nevertheless, obtaining an official YouTube Premium subscription is the quickest method to download videos.
Yes, this does cost money, but it's only a little over $10 each month. You'll be able to download and watch videos within the YouTube app even if you don't have wi-fi or cell reception.
It's a perfect solution for those who travel or don't have access to an internet connection at all times.
How to Use a Virtual Desktop to Download YouTube Videos
Another simple approach to downloading videos from YouTube is to use a Virtual Desktop. To begin, visit YouTube and enter the title of the particular video you wish to download and watch.
From here, the video will autoplay, but all you'll need is the URL. This procedure is relatively similar to a previous method.
In this scenario, update the video URL to include the words 'vd' after 'www.' After you've changed that, hit the 'Enter' key, and the YouTube video you wanted is then forwarded to VDYouTube.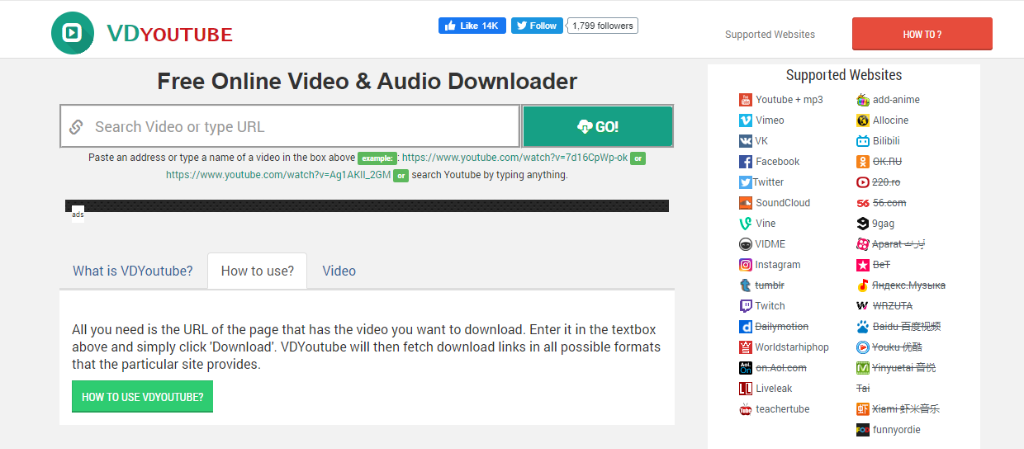 Next, make sure to select your desired file format and video quality for your download.
Can You Download YouTube Videos with a Browser Add-On?
Some people would rather avoid tinkering with the URL of the YouTube video.
Additionally, some might not care to download the videos through third-party applications, many of which could have poor security or harbor viruses.
A reliable solution to this issue would be to use browser add-ons that allow you to download YouTube videos.
Thankfully, finding a web browser add-on for almost any web utility you might be looking for isn't challenging.
The fact is that you're able to download YouTube videos using many different methods, and there's always a solution if one doesn't work for you.
Some are online apps that work well with Safari, Firefox, and, Chrome, while others are independent website applications and software.
Nevertheless, Opera.com offers a reliable add-on for downloading videos and is a trusted option. They have an overall positive user rating and make downloading YouTube videos a breeze.
In Opera, the procedure to download a video is pretty straightforward. Additionally, always ensure you downloaded the correct version of the add-on suited for your browser.
I'd also like to mention that you should restart your desktop if the browser add-on doesn't want to work after it's installed. Once it's downloaded, search for the video on YouTube you want to download.
Now you'll see an Opera add-on icon in the top right area of your browser.
The Opera add-on presents you with a few options when downloading a video. You'll want to select the option that says 'quick download' for the most optimal processing times.
Without this add-on, downloading videos from YouTube directly like this won't be possible, no matter which browser you decide to use. Most browser add-ons give you a number of alternatives for saving the video.
There are a variety of formats and video quality options to choose from in Opera. All of which can be set and determined before processing your YouTube video.
Using a VLC Player to Download Videos
In short, VLC Media Player is safe to use and makes downloading YouTube videos reasonably straightforward, and is available for Windows and Mac.
First, visit YouTube and find the video you're looking to download.
After that, you'll want to copy the video's URL. When you first launch the VLC player, click on the 'Media' tab and select 'Open Network Stream.'
This would be the process for Windows computers, but if you're using a Mac, go to 'File' and then 'Open Network.'
Regardless of your operating system, a text editor will appear next. Here, you'll want to paste the URL of the video you're looking to download.
Then you'll want to check that the video is working correctly by playing it through. Then, in the upper right corner of the screen, select 'Tools.'
Here, you'll want to choose the option that says 'codec information.'
A new box will appear, and you'll then copy the video's details. Moreover, if you're using a Mac, you'll want to right-click and select 'Open URL.'
At this point, for Windows users, the URL has already been copied. Paste the copied URL into your browser, then hit 'Enter,' and it'll autoplay the video in your browser.
From here, right-click the video and save it to your computer, and the YouTube video will begin to download. For file format, the default is in MP4 format, with a default title that you can change at a later time.
How to Batch Download YouTube Videos
When an individual uses add-ons or software to download several YouTube videos to a specified folder, this is known as batch downloading.
The phrase 'batch downloading' refers to the process of downloading several files in one session.
How many files and their size will influence how long the download will take to finish. Your internet connection will also have an effect on this.
Batch downloading is popular because it is a convenient process to download multiple little files from a single source. Moreover, it's because the size of the files doesn't exceed the download limitations that software generally imposes.
What Music Can I Use for YouTube Videos?
When creating a video for YouTube, it's ideal to utilize music that's royalty-free. This means that whichever music you end up choosing shouldn't infringe on any artist's rights.
You can use specific music that YouTube provides, as they have a wide selection of royalty-free tracks to choose from.
Furthermore, you can find many other websites online that sell and license royalty-free music, so it won't be too hard to come by.
If you're looking to be a creator on YouTube, it's essential to understand the rules before diving in. The platform has a sensitive algorithm, and there isn't much that gets by it.
YouTube also implements a strike system, but you can navigate safely by sticking to original content.
Aside from royalty-free music, you could work directly with an artist to make some custom music for your channel and bypass any worry about infringing on anyone's rights.
Is it Legal to Download YouTube Videos?
The landscape of YouTube's Terms of Service (TOS) is relatively basic in regards to what a user can and can't do with the videos on their platform.
Breaches of their TOS include downloading videos with no authorization from the creator, selling videos, or infringing on copyrights in any way.
YouTube has stated that it has no intention of penalizing users who download videos, but it is clear that it's not acceptable on the platform.
It is permissible to download some videos that are royalty-free from YouTube that have the proper permissions. Furthermore, it's lawful if you're only utilizing a video for your own and non-commercial purposes.
Third-party applications, on the other hand, are all over the internet, allowing individuals to download as they please.
It's difficult to punish or prohibit people who take advantage of them, as you can download anything you want without even being signed in.
It really comes down to what your purpose for the videos is, but for the most part, YouTube doesn't seem to care if an individual downloads a handful of videos.
However, they do care if someone is monopolizing off of many different videos.
FAQ
Are Video Downloading Web Applications and Software Safe for My Device?
When searching for a video downloader online, you'll be bombarded by a long list of options to choose from.
You should always be wary about who the service provider is, how long they've been around, and if they have any available reviews.
It isn't uncommon for some websites and software to be riddled with viruses and malware.
Will I Get Banned from You Tube for Downloading Videos?
As previously mentioned in this article, you don't even need to be signed in to download videos from YouTube.
If you're signed into an account while performing these actions on their platform, there's always a chance the activity could get flagged.
Once again, there's very little chance of this happening, considering third-party applications or software are handling the work. At the same time, it is still against the platform's TOS.
Are There Any Legal Repercussions?
As a technicality, YouTube could decide to sue you for downloading content from their platform without consent.
Don't forget, YouTube has stated themselves that they have no interest in actively pursuing this, and it's not much of a concern for them.
In regard to copyright law, that could end up being a rabbit hole of legal trouble.
Although YouTube may not be necessarily concerned about the videos themselves, the content with those videos may belong to someone else.
It's possible the original creators of that content could pursue legal action, depending on how they feel about the situation and what you decide to do with the video(s).
Is It Free to Download You Tube Videos?
There are many different options to download YouTube videos for free. Of course, you may encounter some limitations, but you won't need to make an account, and you can have the video in your hands within minutes.
Although, if you want the most hassle-free route, I suggest going with 4K Download as they're one of the best options you'll find online.
Are There Any Limitations to The Number of Videos I Can Download?
It really depends on which service you choose. Some may only allow one video at a time, while others will provide batch downloading features to help speed up the process.
In most cases, you can expect service providers with additional features to have a subscription model.
Generally, features such as batch downloading are for more serious users, but those looking for one or two videos can easily get by with a free video downloader.
To Close
In this article, you've learned the ins and outs of downloading YouTube videos. Not only do you have more than one method, but you know how to stay safe in the process.
Nowadays, it's surprisingly easy to download videos off of YouTube undetected. Moreover, the websites and software that provide these services are becoming more secure and more reliable with a multitude of features.
It's a highly sought-after tool as it can allow many individuals to store what they perceive as valuable. In some cases, it's entirely free, so it can be hard to pass up.
YouTube doesn't seem to be too worried about videos being downloaded, but they take a clear stance on the matter, so there isn't any confusion regardless of circumstance.
As long as you take the necessary precautions, the information in this article should be helpful to you.