If you are a blogger or someone who works regularly with bloggers, you must have received or shared quite a few Google Docs links. It is one of the most popular alternatives to word processors.
Using this cloud-based application, you can create different types of documents like images, videos, hyperlinks, charts, and tables.
Compared to MS Word, the number of formatting options is few and far between. However, new features are constantly being added to it.
While working on the app, you might have wondered how to save an image from Google Docs. When you right-click on the images, you won't find a save option.
This can be quite frustrating, especially when it is an image you need to download immediately.
Luckily, there are some workarounds that let you download image files. In this article, we shall discuss the different ways you can perform this task.
Publish to Web
This is one of the easiest ways to download an image via Google Docs. It lets you retain the original quality of the image after the download.
In case you only have a handful of images in your Google Docs, you should opt for this method.
First, you need to access the Google Docs app. Then, navigate to File and select Publish to the Web.
The following screen will give you the option to enter a web page URL where you wish to publish the documents. In order to receive the public URL, you need to select the Publish button.
After that, the URL can simply be copied and pasted in the address box.
Once you are done pasting the link in the address box, you will be able to view your document as it would appear published on a webpage.
You can simply hover your mouse over the image and right-click. This time, you will find a Save as image option.
Prior to saving the save you can assign a proper name to it, for a decent SEO score. Of course, it can be a cumbersome task to repeat this process for a large number of images.
If you don't wish other individuals to see the image, you can simply un-publish the content.
Save to Google Keep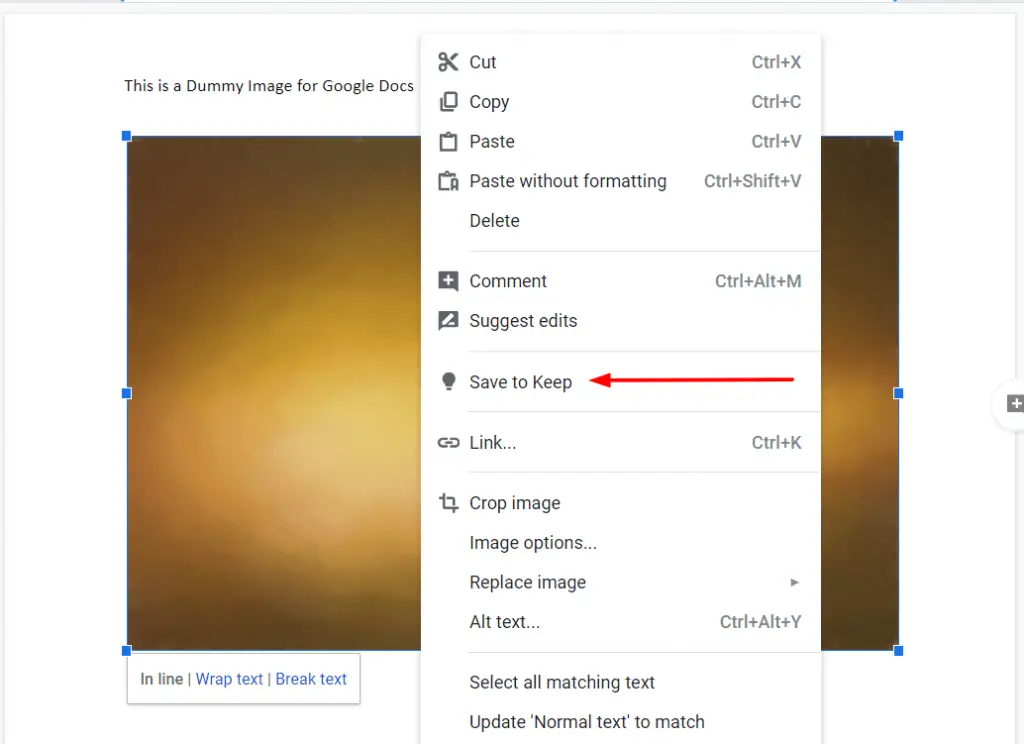 Google Keep is a service that lets you add audio, photos, lists, and notes. You can quickly filter and search for content and share it with other people.
All the files added to Keep syncs across devices so you won't lose any important stuff. For those wondering how to save an image from Google Docs, Google Keep can be a viable option.
You must use Google Chrome to download an image using this technique. Simply visit Google Docs and open the image you wish to save.
Right-click on the image and select Save to Keep notepad.
Once you do this, you will see a sidebar to the right of your screen. Right-click on the image and choose the Save as option. You should always assign it a proper name for SEO.
After this, you can drag the image to the WordPress editor and upload it.
This method doesn't even require you to utilize the full features of Google Keep. You will simply need to work with the sidebar.
Take a Screenshot
Even if you are not too familiar with computers and web apps, you can use this method to download an image file from Docs.
There are several chrome extensions that let you take screenshots easily. No matter which operating system you are using, you can find an app that will suit your purpose.
You can use the manual method to take the screenshot, but if time is an issue, you should always go for an app.
Firstly, you need to open the Google Docs file holding the image and select it. After that, you can open the screenshot tool.
You will be taken to a different tab where you can resize the image. Crop the image if needed and save it to your local drive, giving it a name that is SEO-friendly.
If you don't wish to use an app to take the screenshot, you can simply press the Print Screen button on your keyboard.
This will capture your entire screen, so make sure the image file is properly placed.
After taking the screenshot, you can open the MS Paint app and paste the image using Ctrl+v. Then, you can edit the image as needed.
Download as Web Page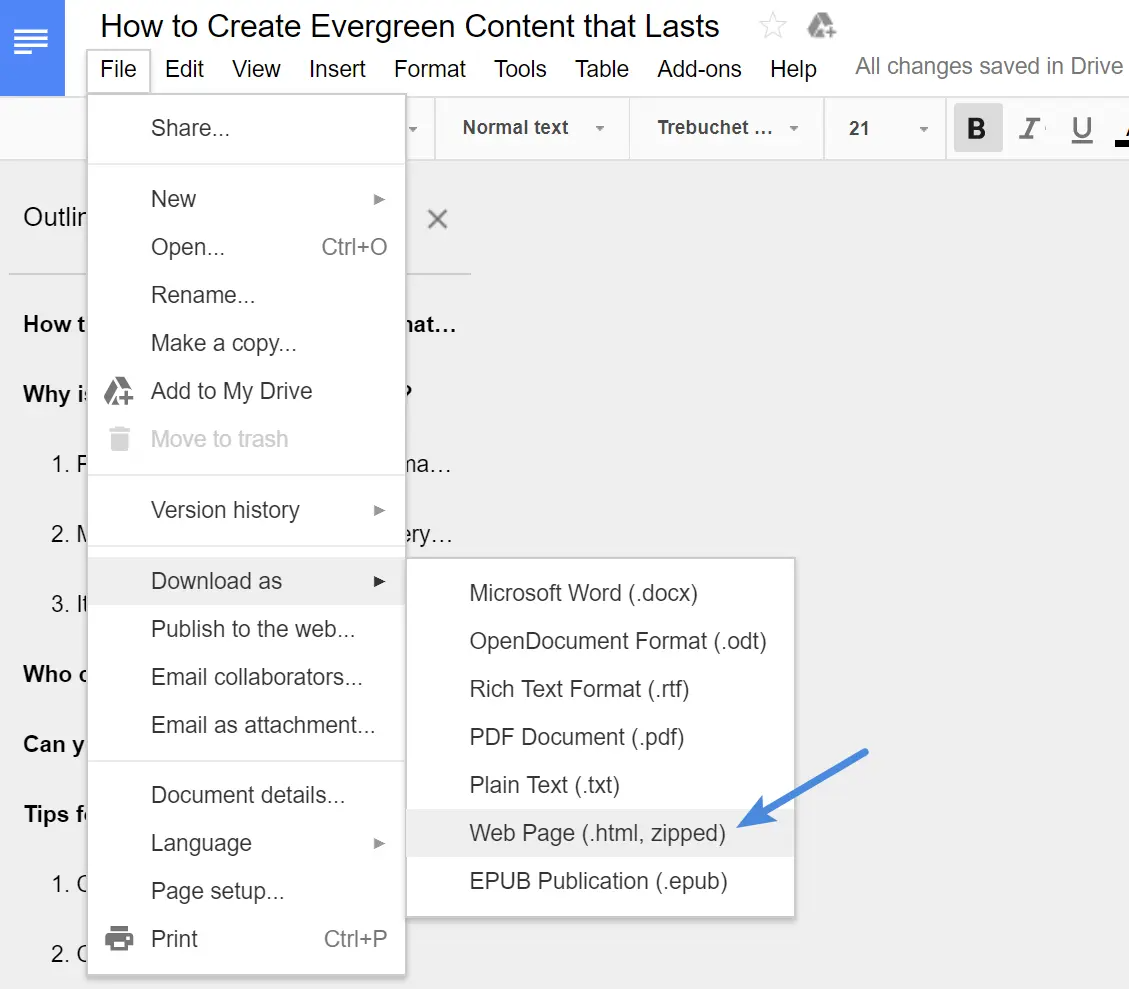 This method is ideal for those having a large number of images in their Google Docs app. It will help you swiftly extract all the images.
First, you need to access the image and click on File. From the drop-down menu, you need to select Download As, and then click on the web page (.html, zipped).
This way, you can download the image in a .zip file. Windows users will immediately see the file being downloaded at the bottom-left corner of the browser window.
If you are not able to find it, simply access your browser menu and select Downloads. You will be able to see the list of all the recent downloads, including the .zip file.
Once you are able to see the downloaded file, open the folder in your local drive where it is stored. Then, right-click on it and extract the file to any folder of your choice.
This will extract all the images in a single folder. After that, you can rename the image files as needed.
Use a WordPress Plugin
The WordPress plugin is an easy solution for those wondering how to save an image from Google Docs.
It is especially helpful for bloggers who wish to publish their content directly in WordPress from their Google Docs.
On the WordPress website, you will find several such plugins available for download.
Before installing a plugin, make sure you check the rating as well as the number of users who have rated it. A plugin with decent ratings from several users is likely to be more reliable.
The first step is to download the Google Docs image file in a format known as .docx. After downloading the file, you need to upload it on WordPress.
Access the file in question and navigate to files, then Download as. Select the Microsoft Word (.docx) option. This will download the image file in the required format.
After downloading the file, you need to install the publishing plugin. Next, you need to post new content. While posting, you will find the option to post using the plugin you just installed.
Upload the file and select import. If you need to optimize your image, you can use an Image Optimization plugin.
Download as DOCX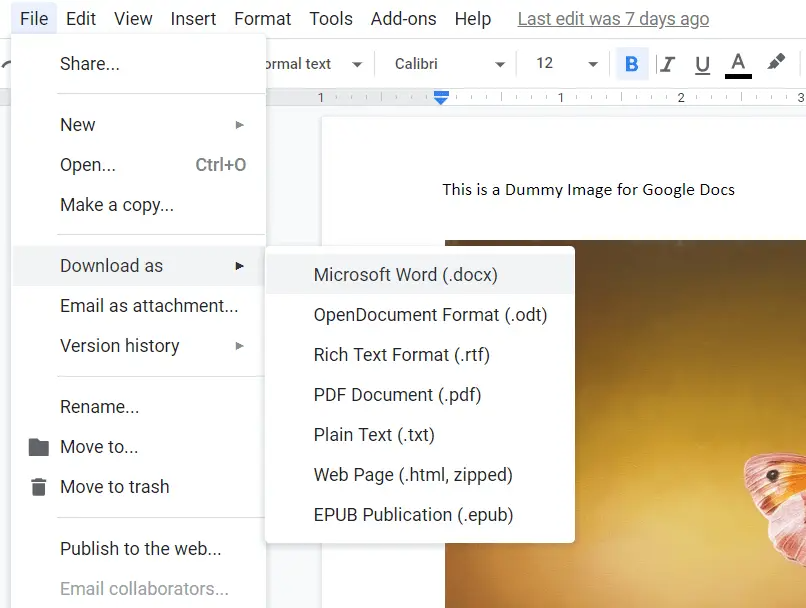 This is a rather crude way to save images from Google Docs, but it works nonetheless. If you are facing issues while using the other methods, then you can try out this option.
It involves downloading the image as a Word file and then opening it using a word processor app.
Firstly, you need to access the image file in your Google Docs and click on the File button located at the top left corner. Then navigate to Download as and select Microsoft Word (.docx).
After the download is complete, you can open the file using MS Word or any other word processor app.
After opening the file, you should right-click on the picture and select Save Image as. This will open a pop-up window where you can save your image in a particular location.
Select the proper location and choose Save to save the file. You can also give it an appropriate name.
Use the Image Extractor Add-on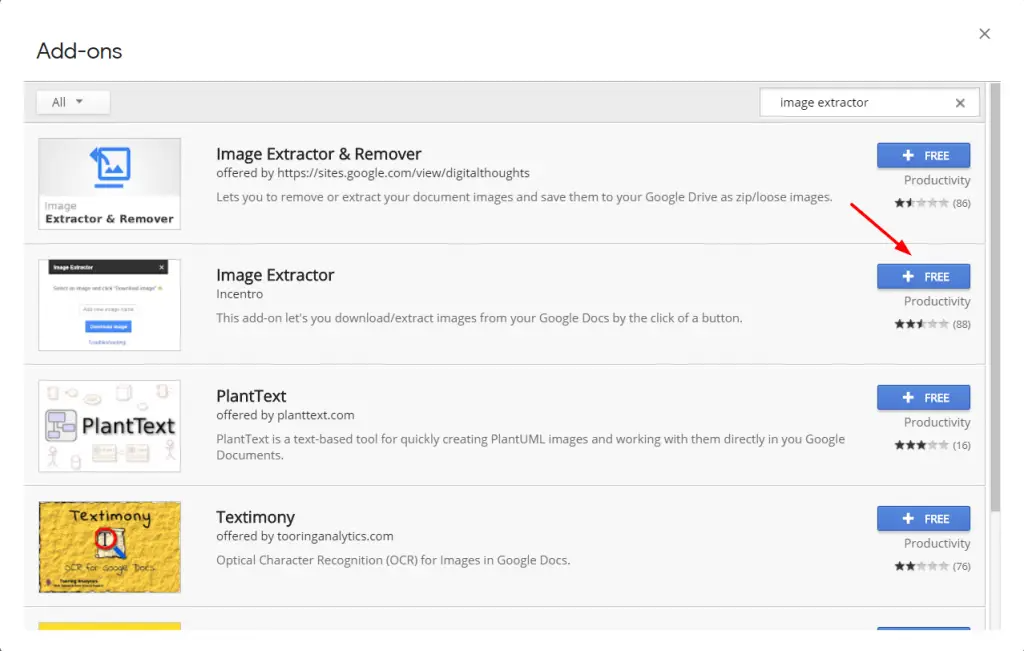 This option is for those who wish to save more than one image from Google Docs. It involves using Add-on software programs.
It is an easy option that allows even beginners to download multiple images effortlessly from Google Docs.
You will need to install an Image Extractor Add-on for this method to work. To do the same, simply access your docs file and click on the Add-ons button located at the top.
From the drop-down menu, select Get add-ons. This will open a pop-up window where you will find a long list of add-ons for different purposes. Search for Image Extractor and install it for free.
After you've installed the add-on, you will be prompted to provide permissions to the service.
Next, you have to navigate to add-ons and select Image Extractor. Then you can simply select the image that you wish to save and click on Download.
Wrapping Up
The above-mentioned methods are quite popular among bloggers for downloading images from Google Docs.
Of course, there are several other methods you can use and there are multiple Chrome add-ons that will help you directly download the image from a document.
While saving the image file, make sure you don't mess up the formatting. There are some apps that can help you fix the formatting for the files you download.
Hopefully, after going through the information provided above, you can complete your task easily.