Slack and Discord are both amazing tools that are used by millions of people around the world. Discord has roughly 390 million users internationally while Slack has 10+ million users today.
While both tools are very similar, they do have different communities.
For instance, Discord is more often used by gamers while Slack is more of a business communication platform.
If you are looking for the best communication tool, then Slack and Discord should be your top two priorities.
However, which one will best suit your needs? Let us learn more about it in this article.
Slack VS Discord – The Differences
In this section, we will compare Discord and Slack from various perspectives:
1. Community
The first point of discussion is the community these chat tools serve. In a lot of ways, both tools are very similar since they aid in team communication for better working.
However, the difference lies in their target community.
Discord has been used for gaming by millions of gamers all around the world for sharing their screens, live chats, etc.
On the other hand, Slack is primarily used for business-related communications. Of course, we do not mean to imply which one is better.
For instance, gamers need a lag-free and smooth chat so that they can communicate and not get interrupted while gaming.
Discord has managed to provide seamless and uninterrupted voice chat.
As mentioned above, Slack has been designed for business-related communication; hence, its purpose is to ensure smooth collaboration between various teams and improve internal communication.
2. Pricing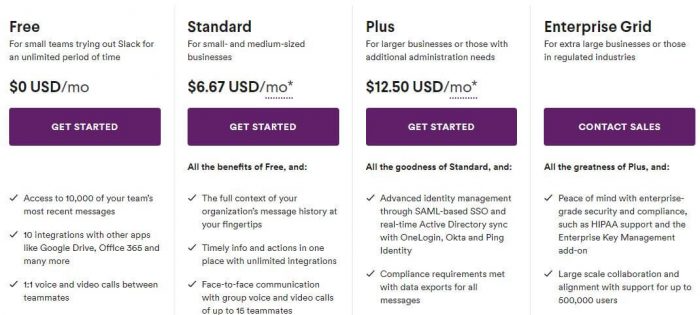 Now, let us check the pricing of both interfaces. At Slack, you will find four different types of pricing plans. They include:
Free: US$0 per month
Standard: US$6.67 per month
Plus: US$12.50 per month
Enterprise Grid: Custom pricing, depending on the features you are looking for
As for Discord, you do not have to spend money; most of its features can be accessed for free. This way, Discord has an advantage over Slack.
3. User Interface
When you look at the interfaces of both applications, you will notice a lot of similarities. For instance, all the contacts will be seen on the left-hand side while your conversations will be placed on the right side.
However, it has been observed that Slack's interface is much more user-friendly than Discord. As mentioned previously, Slack has been designed for business-related communication.
Hence, its interface has been designed accordingly. It is navigable so that you can make use of all the features.
On the other hand, Discord's user interface looks more complex. Here, you will find many menus for channels and direct messages.
However, the plus point here is that you have access to more customization features when compared to Slack.
While you can only change the theme of the sidebar in Slack, you can change Discord's entire application.
4. Chats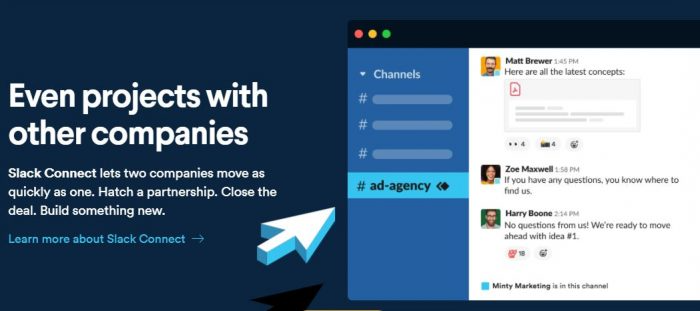 In both these chat tools, you will find three types of chat setups; they include:
Direct Messages
Private Channels
Public Conversations
At Slack, you will find threaded conversations that will help keep the chats organized. You will be able to separate discussions while keeping them in the same conversation.
This way, it helps reduce clutter to enhance productivity. Unfortunately, Discord does not have this feature.
On the other hand, Discord allows you to organize the chats into two channels: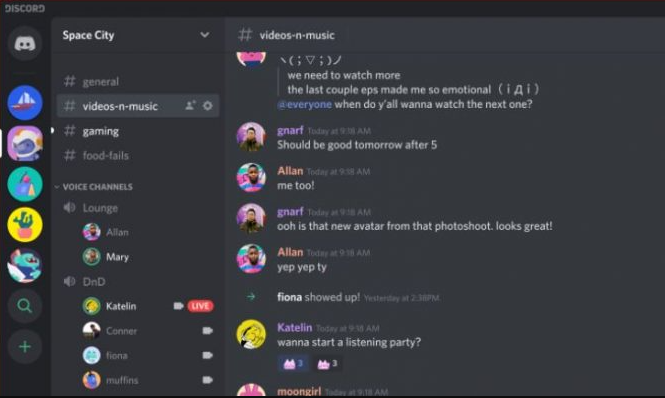 One thing you will notice about Slack is that the Free plan will only allow you to store 10K messages. In the case of Discord, there are no such limitations.
Additionally, both tools are fitted with the in-built search function.
5. Video Calls
Discord is definitely a better option when it comes to video calls. The downside of Slack in this aspect is that only two people can video call with the Free plan.
Depending on the paid plan you choose, you can add a maximum of 15 members.
In the case of Discord, the video call features are superior. You will be granted access to various video call features like echo cancellation, noise suspension, etc.
You can also convert a voice chat into a video call and add a maximum of 25 people at the same time.
6. Voice Calls
In Slack, the voice call feature can be considered more deliberate. All you need to do is tap on the Call button to start a voice call.
Similar to the above, only two participants are allowed in the voice call and you can have a maximum of 15 members, depending on the price plan.
As for Discord, you can add roughly 5K participants in the voice call. Additionally, you do not even have to set up separate calls.
All you need to do is start your channel and start your voice chat in real-time. The voice calls can be public or private.
Final Thoughts
It is not easy to choose the winner because both tools are considered the best when it comes to internal communication.
The only difference is the user base – Discord is used mostly by gamers while Slack is used by businesses.
Depending on how you want to use the application, Discord and Slack are both great options, nevertheless.