It's no secret that social media marketing can be incredibly hard work. Sometimes it can make you feel like you're fighting an uphill battle and there's no chance you're going to win it.
More and more, content marketing has become an integral tool to use for your online branding and advertising strategy. It's your key to building up a successful online presence around your business – but you can't do it alone. There are some companies out there that can do everything for you so that you can focus on bigger picture stuff, and then there are companies that provide you with the tools to do it yourself.
If you're someone who prefers to do things themselves, then you're going to like the line up we've got today. Let's take a look at some of the best social media dashboard tools that can help you manage your social media accounts.
Best Social Media Dashboard Tools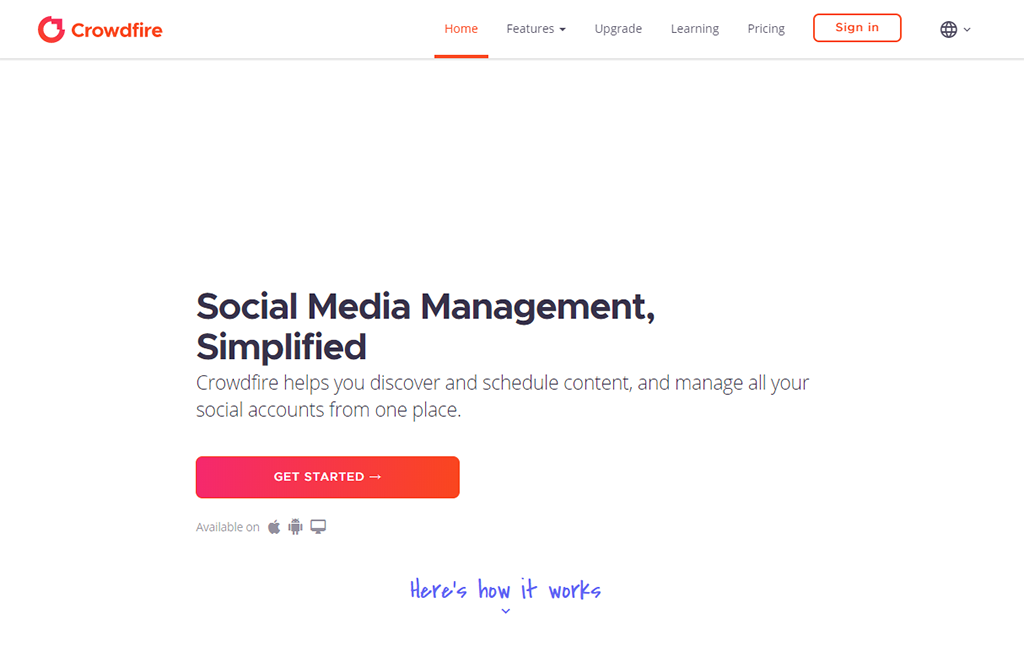 Crowdfire App has been pretty clever about their point of difference. While they have all the features on their dashboard for the ultimate content marketing strategy, they have also included an additional strategy that not everyone is offering right now – the ability to find content that's similar and relevant to your own. The more content you can find that your audience is going to like, the more they're going to like your own content.
Why not use other people's content to your advantage and create a successful brand from sharing it? Crowdfire can help you manage both your own and other people's content from within their user-friendly dashboard. This is a great app if you're looking to get serious about content sharing and need some awesome tools and features to achieve this.
When it comes to social media dashboard tools, it doesn't get much better than Follow Adder. In fact, many people would consider Follow Adder to be the OG of social media dashboard tools, as well as the OG of content marketing period. These guys have been around the block, and know a thing or two about growing your social media profiles into successful brands.
Follow Adder includes a downloadable dashboard that can be used with PC, Mac, and Linux. We love that all of their features are completely customizable, so you can go to town when it comes to creating your very own social media content strategy. We also think that their dashboard is pretty easy to use and understand, especially when you compare it to others out there. These guys are one of the originals, and they're still going strong all these years later – that definitely says something.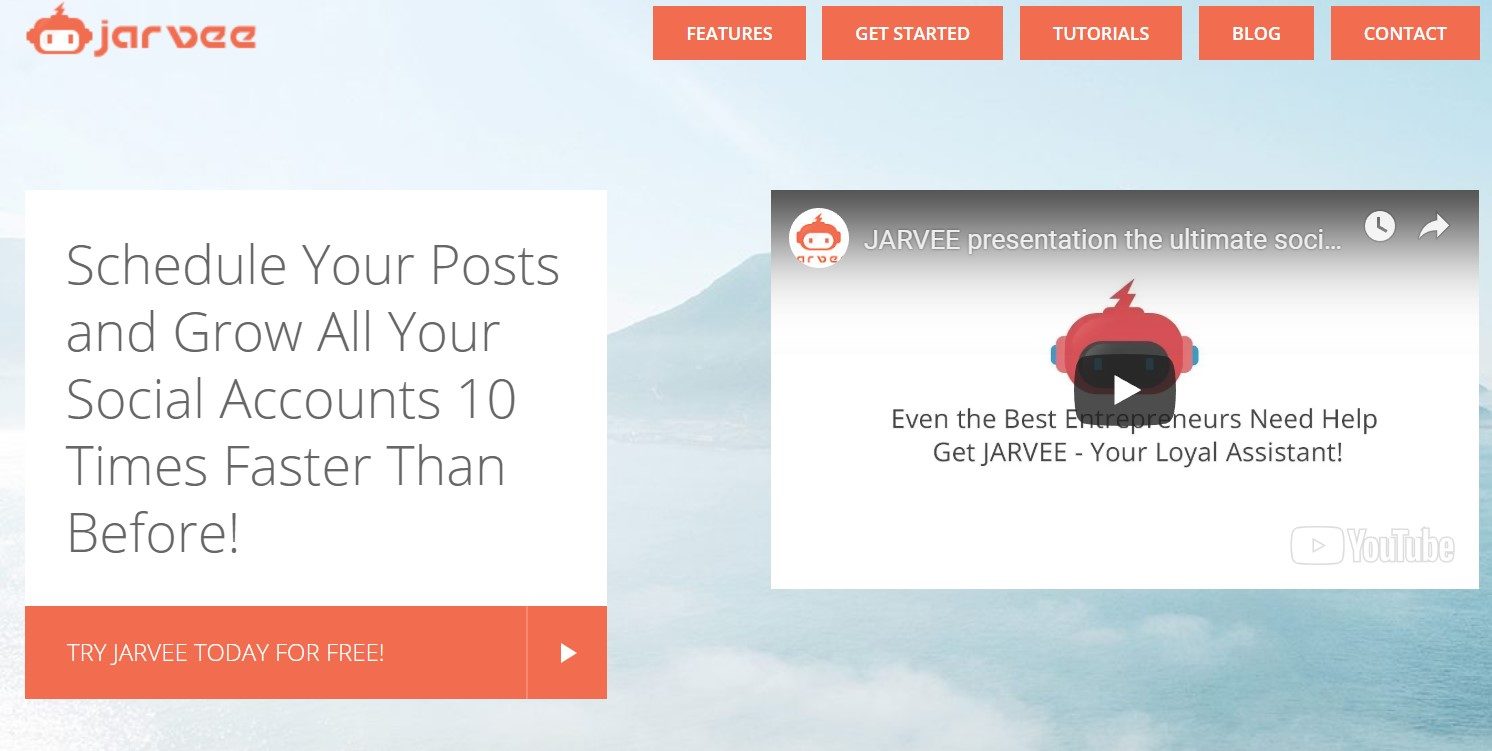 Jarvee is a lot like Follow Adder – it's another OG of the social media dashboard tool industry that's seemingly been around since the beginning. They definitely also know their way around content marketing in many different aspects, which is why they're still considered a legitimate option when it comes to your online needs.
One thing we will say about these guys is that they are only compatible with Windows, so if Windows is your desktop, then you're in luck. We would also recommend checking out their video tutorials on their website so you can learn the ropes a bit first, otherwise, you may find yourself a bit overwhelmed by all the features.
Social Oomph knows all about post scheduling from within their easy to use app. In fact, they could be considered the king of post scheduling, so if you're looking for a company that specializes in this side of things, then you're going to want to check them out. They believe that scheduling your posts in advance, and staying organized in this way can boost your overall productivity.
Another thing that we love about Social Oomph is that they can help both individuals and teams. If you're an aspiring influencer that is hoping to do well with your content marketing, they can help you get ahead.
If you are a social media manager and work within a larger team, you can also make the most of Social Oomph's scheduling tools. They're a great option whatever your approach to content marketing is.
Agorapulse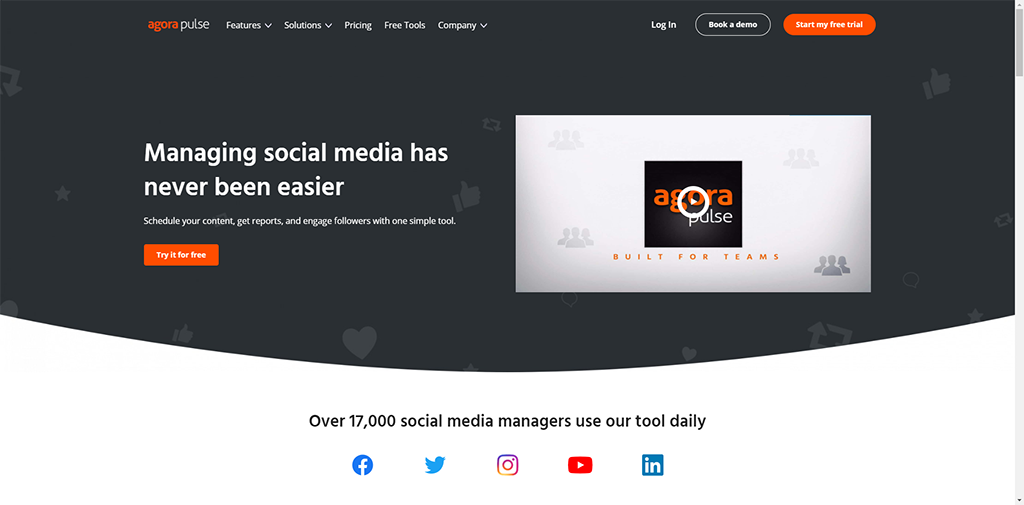 Agorapulse ticks of many of the boxes that we cover when looking for a great social media dashboard tool. They are great at increasing the overall productivity of your content marketing, as well as being able to help with tracking, analytics, scheduling, and even collaboration. You may find that a lot of tools out there can lack in some of these areas, whereas Agorapulse seems to have them all comfortably covered.
One of the biggest points of difference with Agorapulse is their social inbox. This is a tool that connects all of your social inboxes at once, so you can comfortably manage them all from within the dashboard without getting confused or spending too much of your time.
It's a great way to keep track of all of your incoming messages so that you can make sure you never miss a request or a message that can often get lost when all of your inboxes are separate. They also have one-click reporting, which streamlines all of your data and makes it incredibly easy to see what's working and what isn't.
Hootsuite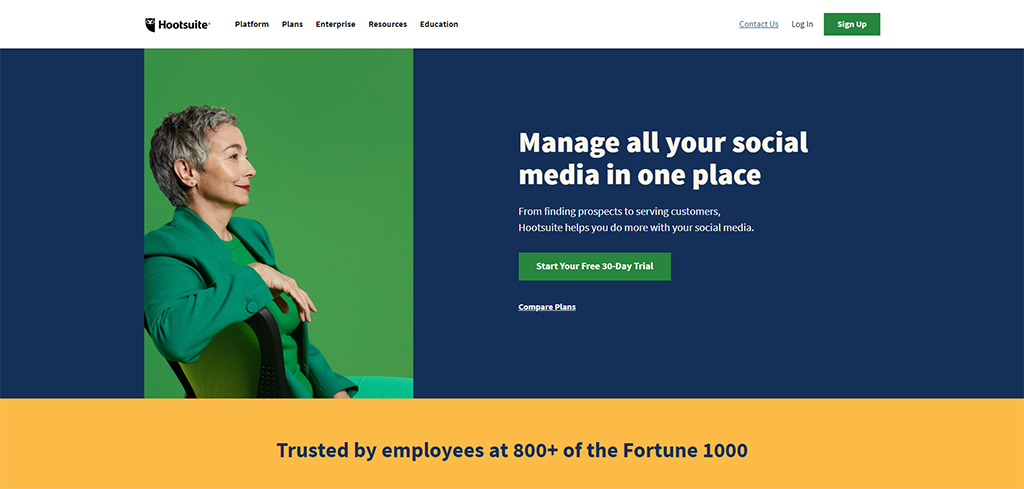 Hootsuite is and has been one of the more popular tools out there that have grown over the time its been operating to an impressive six million users. Like Follow Adder and Jarvee, Hootsuite has been around for a long time now, which has allowed it to really build up a great reputation – as well as an excellent service. Impressively, their dashboard is now available in 13 different languages.
You can either sign into their dashboard using your Twitter, Facebook, or Google account, or you can just make a new account for free. Hootsuite is all about making scheduling simple, and you can also make the most of their app directory. If you're an individual that's not planning on collaborating with anyone anytime soon, then you can try them for free. However, if you're a team player, you'll probably have to upgrade to get the features that you want.
Cyfe
Cyfe doesn't just want to connect all of your social media platforms together, it wants to combine all of your online activities as well, so everything is in one easy to use dashboard. They have a 'forever free' plan that you can sign up to using your email, name, and password. Their free tool has many different features, including monitoring, emailing, blogging, advertising, sales and finance, social media, and web analytics.
All of its features has supports that you can sync together. For example, if you were to use their Sales and Finance feature, you could also add Xero to this to make it even more useful.
Like we said above, you don't just have to use Cyfe for your social media management – you can also sync up your Google accounts. Whether it's for personal or business use, this is the kind of social media dashboard tool that you want to keep track of everything you do online.
Sendible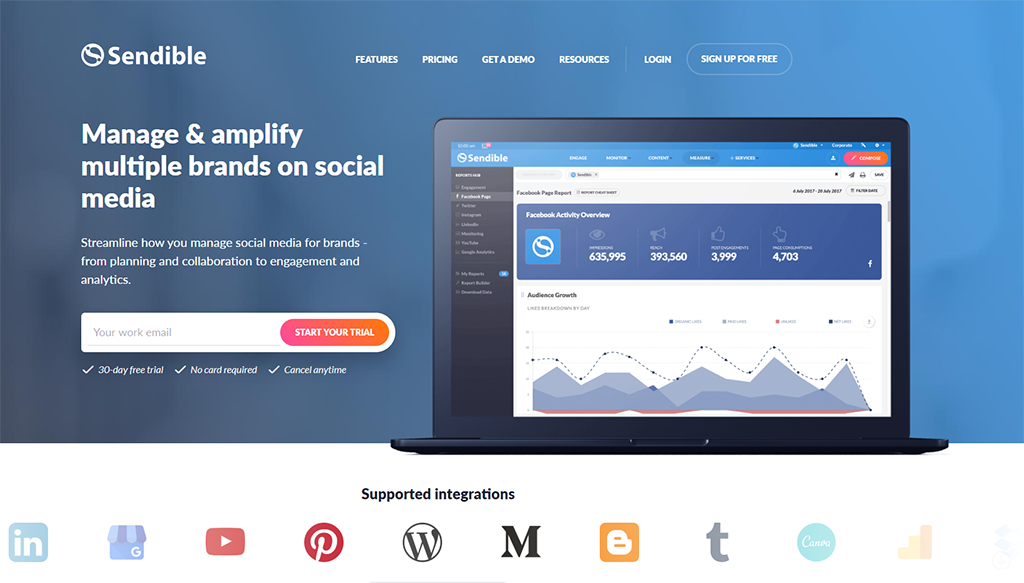 Sendible wants to help you schedule upcoming social media posts and combine all of your different social media actions under one roof, with the addition of SMS and email marketing as well. They also have a brand monitoring tool for Yelp, which can be great if you're a local business, and you want to stay on top of what your customers are saying about you.
When it comes to their actual dashboard, we would say it looks more like an email client assistant than an actual dashboard. Within it, you can publish blog posts to your WordPress blogs, and they even have a free 30-day trial. This is primarily because they don't have a free service that you can use. Their prices start at just $39.99 a month.
Sprout Social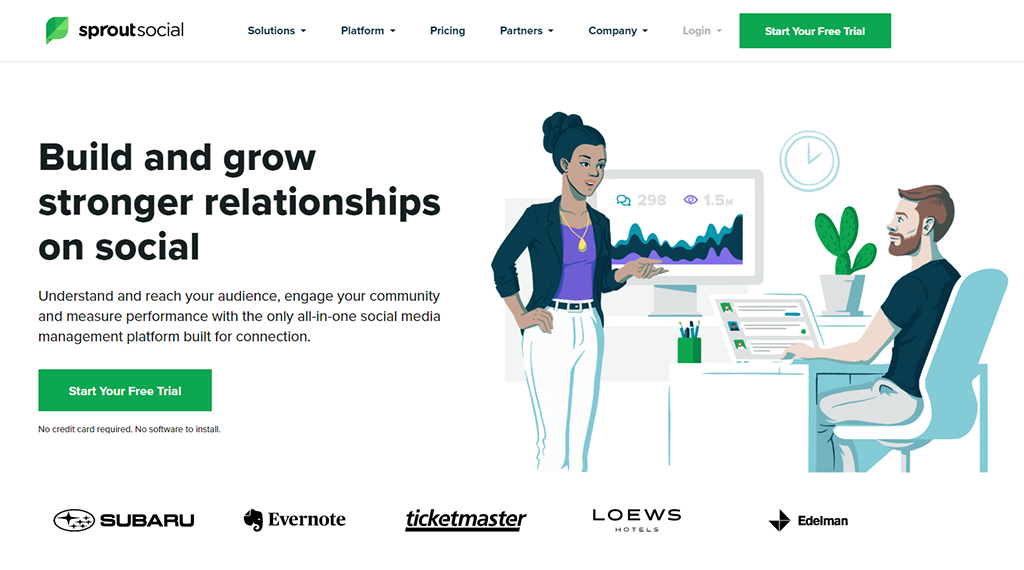 It's super easy to sign up with Sprout Social – and it only gets easier from there. What's great about their free trial is that you don't have to part with any credit card information, and the free trial lasts for 30 days, which we think is pretty generous.
If you're looking for something that can help you come up with a great list of keywords, we recommend these guys. You can even create keyword lists and save them for future reference so you can stay super organized when it comes to your content marketing strategy.
Final Thoughts on Dashboard Tools
When it comes to choosing the best social media dashboard tool, there is no right or wrong if you opt for our list. It's all about finding the one that's going to best suit your needs.
Whether you are looking for a great post scheduler or you need help keeping your keywords organized, there are many awesome social media dashboard tools on this list to keep you busy with your content marketing strategy. The best part is, you don't have to be overwhelmed, because they can all take some of the stress away.