If you live in the Washington D.C. area, chances are you work out of some kind of office building, whether it's for federal, arts administration, commercial, or other professional purposes.
Working in an office has its benefits, such as face-to-face interaction with coworkers and having a clearer exposure to the tasks and challenges at-hand since you're grouped together within teams and can ask directly for help.
Physical office spaces can also become limited in what they can contain, and with the current trend of employees working from home more often, businesses find themselves needing more offsite storage.
Due to more people working remote, there is less demand for certain equipment, and it can remain stagnant for much of the year.
Businesses also look for outside storage when moving offices or if there is simply too much inventory or an abundance goods to maintain within the main headquarters. There are several reasons for an office requiring more physical space.
And most businesses will tell that you that the best storage solution for lightweight, high-volume goods for office spaces to utilize are steel shipping containers.
Shipping containers provide optimal storage for offices and businesses because of their affordability, durability, and so much more.
Let's take a look at why your office should consider the benefits of utilizing containers as offsite storage, and how easy it is to get the process started.
What's A Shipping Container?
A shipping container is a large, standardized-sized steel box that is typically used for transporting cargo across long distances. In general, such journeys include travelling by sea, land, and sometimes by rail.
They come a variety of sizes, but the most common size is 20 feet or 40 feet in length, about 8 feet in width, and around 8 or 9 feet in height.
Since the design of shipping containers has been standardized, they have revolutionized the transportation and logistics industries.
Containers have made it possible to efficiently load and unload cargo from trucks and ships, and they've contributed to the globalization of trade by making easier to shift goods across different modes of countries and transportation.
Additionally, they can also be fully repurposed and converted into other useful (and often livable) spaces, such optimal storage solutions for businesses.
The Advantages Of Shipping Containers as Storage
Using a shipping container as your offsite office storage space comes with a plethora of benefits — let's look at those now!
They're Durable And Secure
Shipping containers are designed to withstand the harsh rigors of ocean, rail, and land travel, making them incredibly durable to extreme weather conditions.
They're built out of steel, so they're resistant against water, wind, heat, and other severe climatic factors.
Containers are also intentionally constructed to safeguard against theft and other outside pests, such as animals or annoying critters.
Find a container that comes with a state-of-the-art lock system so you can rest easy knowing your stuff is always safe and secured.
Look for a company that provides shipping containers built with corrugated steel sides, steel framing, and 1 1/8" thick marine plywood floors — this will ensure years of security and durability.
The Mobility Factor
Another unique factor about shipping containers as storage solutions is that they are fully mobile.
Containers can easily be transported from location to another using a large vehicle such as a truck or other suitable equipment.
The portability is perfect for businesses that might need relocating or to adjust their storage needs over time.
They're Versatile and Adaptable
Depending on your office's storage requirements, shipping containers can be customized and modified to adjust to a variety of storage needs.
They can be outfitted with shelves, lighting, HVAC systems, and more, making them more than suitable for storing a wide range of items, of all shapes and sizes, from office supplies to machinery.
Scalability
As your office's storage needs increase, additional shipping containers can be conveniently added to accommodate the increase demand.
Due to the standardization of containers, adding more to your storage collection is always a simple and smooth process.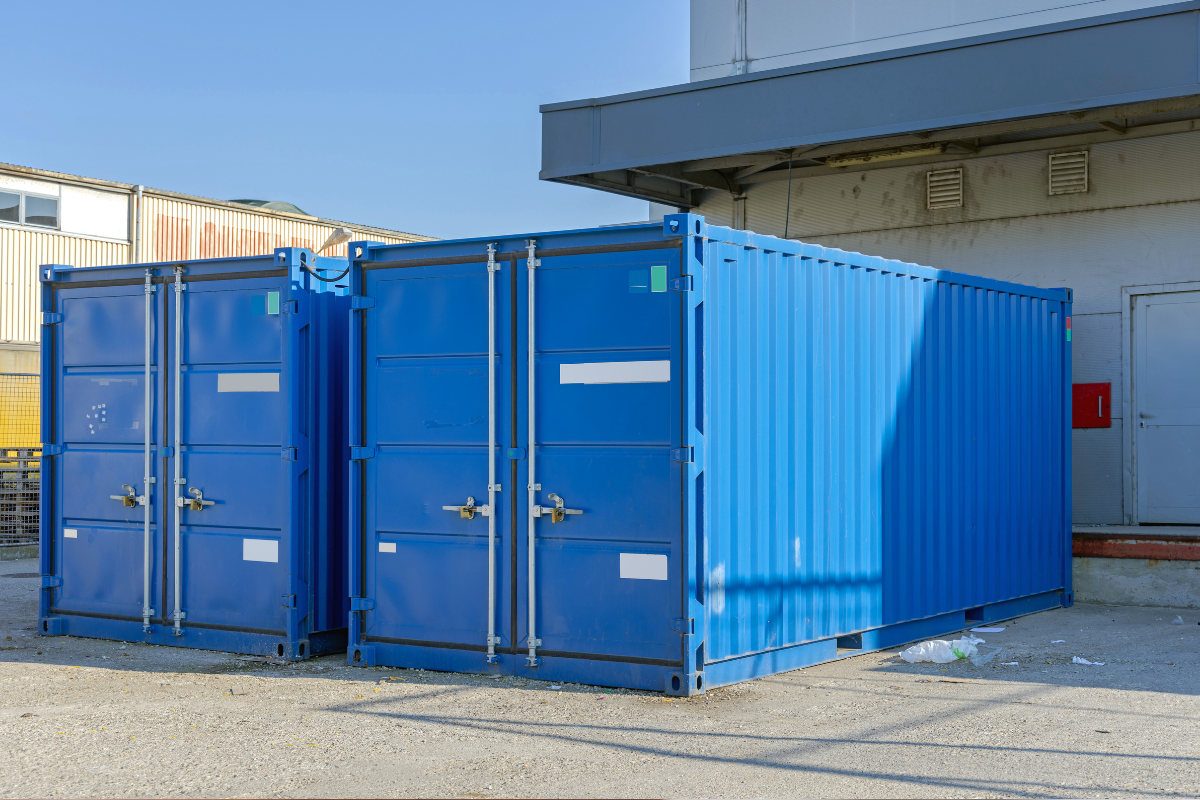 Optimal Offsite Security
As we already mentioned, shipping containers are built to last. They can withstand extreme outside intrusions and can offer an additional layer of security in case of on-site emergencies, such as fires or natural desires.
Consider storing important documents and equipment in your shipping container as it provides maximum security, and you'll feel safe knowing they're in there.
A Temporary or Permanent Solution
Shipping containers are also versatile in that they can serve as both temporary and permanent storage solutions for your office.
Businesses can use them during relocations, office renovations, expansions, and they also serve as long-term storage options.
The Green Solution
Not only are shipping containers secure and durable storage solutions, they're also sustainableBy repurposing a container into storage, you're giving a second life to materials that might otherwise go to waste.
Utilizing a shipping container as a storage solution decreases the planet's carbon footprint, thus making it a little cleaner.
Whether it's a transitional time for your office or simply a time when you need more space, consider the benefits of using shipping containers for all of your offsite storage needs!